E-Safety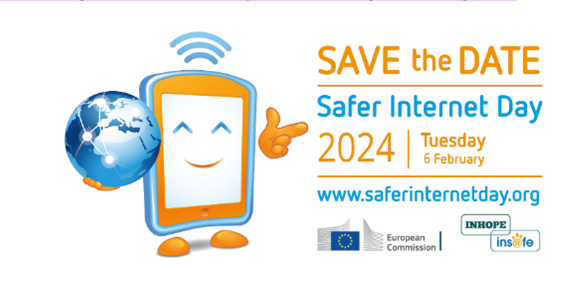 The UK Safer Internet centre has created a range of Safer Internet Day films to help parents and carers have conversations with their children about staying safe online and recognising potential danger. Working with schools throughout the UK, they have been specifically designed to support you in being confident to discuss the issues around respect and relationships online when gaming. Links to six videos can be found below. If you would like to view these using British Sign Language, click the link and all six videos will be available to view online or download.
Family conversation starters 1
Family conversation starters 2
Family conversation starters 3
Family conversation starters 4
Family conversation starters 5
Family conversation starters 6
ONLINE SAFETY for Parents

The most important thing a parent can do to help protect your child online is talk to them and make sure that they know you will help them if they get into trouble. Many parents feel that they don't know enough about social media and how their children communicate online, with many feeling "left behind" when faced with the wide range of apps and websites that their children may be using daily. However, just because your children may be more familiar with the technology, don't be fooled into thinking that they know more about socialising online than you. You might not be familiar with all the apps or terminology, but as an adult you understand a lot more about risk, how to behave socially and how to spot and deal with problems.
To help you with some of your conversations or enable you to help keep your child safe we have included a list of commonly used apps and links to guides to help you set up and protect their privacy.
The tips below and more can be found on the Internet Matters website. There you will find expert advice for adults and children of all ages.
Called the 'Tinder for teens', Yubo is a social media app that encourages teens to find new friends on Snapchat and Instagram by allowing them to swipe left or right to connect. Find out more about its safety and privacy settings here:
https://www.internetmatters.org/hub/news-blogs/yubo-formerly-yellow-social-media-app-parents-need-know/
The global real-time photo and video sharing app, Snapchat averages 400 million 'snaps' a day, the minimum age to sign-up for an account is 13. Learn about its latest features like Snap Maps and how to set the appropriate settings on the app:
https://www.internetmatters.org/parental-controls/social-media/snapchat/
Musical.ly allows teens to make and share 15 second music videos. These feature users lip-syncing to the latest songs provided by the app, singing their own songs or doing comedy skits see the internet matters guide on keeping your child safe here:
https://www.internetmatters.org/hub/expert-opinion/musical-ly-app-parents-need-know/
Instagram is one of the most popular online photo and video sharing platforms. Find out more on how to keep your kids safe:
https://www.internetmatters.org/resources/instagram-safety-a-how-to-guide-for-parents/
YouTube is now not only where we go to watch footage of cats playing the piano or the latest pop videos, but a valuable resource of entertainment for children. It is also a common ambition for many students to become Youtubers:
https://www.internetmatters.org/parental-controls/entertainment-search-engines/youtube-app/
The CBBC website has some activities that are fun and informative which are great ways to learn more about how you can surf and chat safely
Top Ten E-Safety Tips
| | |
| --- | --- |
| 1 | Always think of your personal safety first when using ICT or your mobile phone. Remember it is easy for anyone to lie about who they are online, so you can never really be sure about who you are talking to. |
| 2 | Do not give out any personal information about yourself online to people you do not know. This includes your full name, address, street name, postcode, or school name. Only ever give out your location as your town. |
| 3 | Never give your contact number to anyone who you don't know. |
| 4 | It's a good idea to use a nickname, rather than your real name. |
| 5 | Don't meet people that you have only spoken to online. If you do decide to meet up with anyone in real life then make sure you take a trusted adult with you and meet in a public place at a busy time. |
| 6 | Never give out pictures online or over a mobile unless you know the person in real life. It is easy for people to take your pictures and alter them, send them on, or even pretend to be you with them. |
| 7 | Always use private settings whenever you are setting up a social networking page or an Instant Messenger (IM) account. This is so people who you don't want to see your profile can't. |
| 8 | Anything you post or upload to the internet is there forever so be very careful what you put online. |
| 9 | Never go onto webcam with people you don't know in real life. Webcam images can be recorded and copied and also shared with other people. |
| 10 | If you receive any messages or pictures that worry or upset you talk to an adult you trust. You may also report it online, via the thinkuknow website http://www.thinkuknow.co.uk |